Kartina Pets
Collin Fleming
Science
January 6, 2009
**What happened to the pets during Katrina? **
After Katrina hit New Orleans not only were the peoples homes destroyed but their hearts were too. A lot of people had to leave their home without their pets, but thanks to the Oratorio Pet Rescuers they helped save 10,000 to 15,000 animals. Before Katrina hit New Orleans between 50,000 to 100,000 domestic pets were in the city, and the hurricane killed about eighty percent of them. Also people were forced to leave their pets to die. In May of 2008 they passed a PWT, which is a pet evacuation plan. One man, said, "I've seen dead people before. Dead people don't make me cry. But dead animals: The tears well up."
I got this in formation at http://network.bestfriends.org/kat5/news/7781.html
Facts from book
During Katrina people refused leave their homes because of their pets. Many of the pets were just to weak to even stand, walk, or even bark so rescuers did not know where they were. Rescuers spend more then $69 billion on food and water for the rescued pets. The PETA is the largest working pet rescuing business in the United States.
There were over 25,000 pets moved to the PETA after Hurricane Katrina and a lot of people donated a lot of their time to save pets and people.
**I decided to call up one of Mary's friends who own a rescue dog.
1. Why did you rescue an animal?
Because they wanted to get another dog. Instead of getting one the puppies from a puppy mill. And to save the puppy from being put to sleep.
2. What did you gat?
A 2-year-old dog named Sissy She is a Dockson mix. Part Terrier
3. Did it take a long time for your pet to get settled?
She got comfortable fast.
4. Do you know where your pat came from?
The pet dog came from Arkansas. Had to meet the dog in Rode Island.
5. Did your pet have any helth problems?
Sissy ha no health problems.
Here are some pictures of pets after Katrina
I think that everybody that wants a pet should get pets from the Rescue instead of a pet store.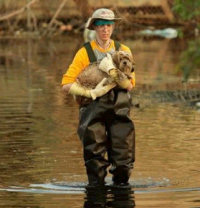 page revision: 7, last edited:
10 Jan 2009 20:59